Mercedes-Benz Unveils New Charging Network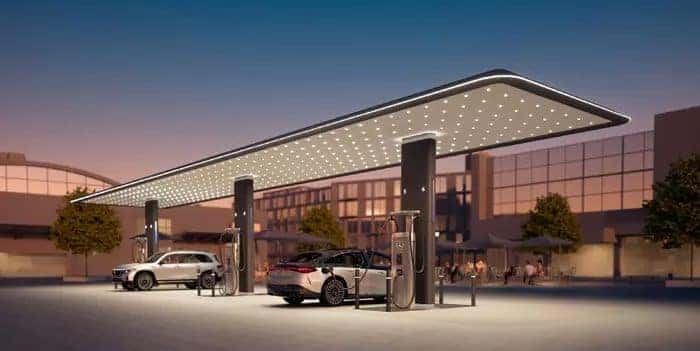 Now's the time to go electric.
Charging your Mercedes-Benz EV will soon be more convenient than ever thanks to the automaker's commitment to installing thousands of chargers across North America. For current Benzel-Busch EV customers – and those considering an EV – this new network gives additional peace of mind that quick and convenient charging will be available no matter where your travels take you.
In remarks at CES 2023, Mercedes-Benz Chief Technology Officer Markus Schäfer revealed plans for a new Mercedes-Benz–branded high-power charging network. Rollout will begin in North America this year, with Europe, China, and other main markets to follow. The North American network, which is planned to include more than 400 hubs with more than 2,500 high-power chargers (HPCs), is scheduled for completion by 2027. By the end of the decade, the Mercedes-Benz HPC network will have expanded worldwide, with more than 10,000 HPCs over and above its existing charging offers.
Each charging hub will offer a premium, sustainable, and reliable charging experience. They will be spaced at regular intervals close to motorways, major intersections, and metropolitan areas, and locations will be selected to accommodate customer needs such as food outlets and restrooms. Facilities will be equipped with surveillance cameras and other measures to provide a safe, secure charging environment. Selected charging points will be covered for protection from the weather.
Depending on location, the hubs generally offer between four and twelve HPCs that provide up to 350 kW charging power. Intelligent charge-load management enables each vehicle to charge at its maximum capacity, keeping waiting times to a minimum. While the network will be open to all EV brands, Mercedes-Benz customers will enjoy special benefits, such as the ability to reserve a charging spot.
In line with Ambition 2039, the Mercedes-Benz roadmap to carbon neutrality, the new charging network will enables Mercedes-Benz customers to charge green. This is preferably ensured via green electricity supply contracts or through renewable energy certificates from an accredited supplier. All Mercedes-Benz charging hubs with an installed roof will be equipped with solar power systems to provide electricity for lighting, video surveillance, and other ancillary equipment.
"At Mercedes-Benz, we're fully committed to making the charging of battery electric vehicles easier and more accessible. By selecting MN8 Energy and ChargePoint as our partners in North America – two of the leaders in their respective fields – we'll be able to continue to drive the transformation towards an electric future, which is one of the main pillars of our
holistic, sustainable corporate strategy."
– Markus Schäfer, Chief Technology Officer, Development & Procurement,
Mercedes-Benz Group AG
The partnership with MN8 Energy, which is one of the largest solar energy and battery storage owners and operators in the United States, supports Mercedes-Benz's goal of maximizing access to green charging for its customers throughout the U.S. ChargePoint has established one of the world's leading EV charging networks in the United States and Europe—one that has powered more than five billion electric miles. The company also serves as the backend provider for Mercedes me Charge in the U.S.
With the new Mercedes-Benz charging network on the horizon, there's never been a better time to make the switch to electric. To learn more about charging – and to schedule a test-drive of a Mercedes-EQ sedan or SUV – contact Benzel-Busch today.