Our Membership Saves You $500 Instantly
Mercedes-Benz of Orange County has joined New York's Drive Clean Rebate program.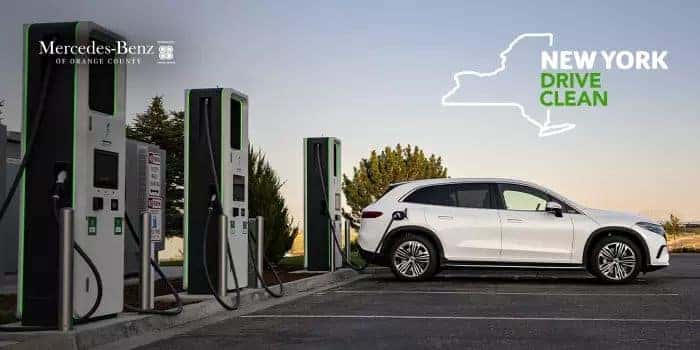 As delighted as we are to be a part of this program, we're even happier that our membership means an extra $500 rebate for our customers on the lease or purchase of a new Mercedes-Benz electric vehicle.
More Incentive to Go Electric
Most of us are aware of the benefits of electric vehicles – better for the environment, a cutting-edge driving experience, and money-savings on fuel…now there's an additional benefit: a $500 rebate available to New York residents registering their vehicles in the state on cars bought from New York state participating dealers.
As a participating dealer, Mercedes-Benz of Orange County will be able to offer this extra $500 rebate to our customers. Combine this with the current $7,500 Lease Bonus Cash and you now have an exceptional opportunity to drive home an electric vehicle. Ask your Salesperson about additional Mercedes-Benz EV incentives available.
Mercedes-Benz of Orange County Difference
We're committed to exceeding every customer's expectations every time. This has been our tradition for nearly 50 years within the Benzel-Busch Motor Car Group and, as we move into the electric era, we're proud to continue delivering a boutique customer service experience and one-on-one personalized attention. The Drive Clean Rebate gives us one more way to enhance the service we provide.
Now's the Time for a Test-Drive
Whether looking at the family-friendly EQE-SUV or the flagship EQS Sedan, you can apply the rebate to the model of your choice. Contact us today to schedule a test drive and to make your electric future a reality.
Explore Electric: